Let Florida Georgia Mobile RV Service Stay On Top of Your RV Upkeep
Take care of RV preventive maintenance today in North Florida, South Georgia and South Alabama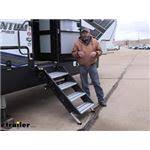 Did you know that 50% of all RV failures occur because the vehicle was in storage for long period of time? When you're not running your RV regularly, it's prone to dirt build-up, which can keep it from running correctly. Also, the seals around slide-outs need to be rejuvenated so they don't crack or leak. Florida Georgia Mobile RV Service provides RV preventive maintenance to make sure that your RV is well-maintained year-round.
DON'T SKIP YOUR RV INSPECTION
We can do a full RV inspection, which is the best way to maintain your RV. This allows us to take care of small repairs before they turn into more expensive issues. You don't want to find out that your RV isn't running properly on the day you plan to hit the road. Save yourself time and money in the long run by scheduling RV preventive maintenance today.